Sell your Property for Free!!!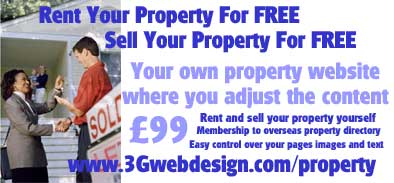 The "property package" allows you to edit and control the pages of your site easily with no programming experience. Selling your property on the Internet allows you to reach potential customers all over the world, and means you won't incur estate agent fees.
What you get:
Home Page
Property Details - display detailed information about your property
Photo Page - to show off the property
Contact Page - so people know who to contact
Tariffs - prices and charges
Price: £99
Prices exclude VAT where applicable
Why pay estate agent fees?
Why pay estate agent fees, when you can sell or rent your property for free, with your own custom website, where you control the content.